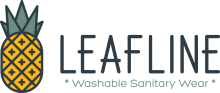 Care Instructions
Sluice item before washing.
Soaking the product in antibacterial solution before machine washing is recommended.
Machine wash separately.
Use good quality washing powder
and a high temperature (note: the temperature for the inners could be 40 degrees..as long as they are sterile. The inners cannot exceed 60 degrees)
the use of fabric softener is not recommended.
Do not tumble dry; outdoor line drying recommended
Do not Iron
Worn inside own underwear.
The sanitary towels are also washable and reusable, they can be used as panty liners as well.
They are discreet, can be folded into a pouch and kept unnoticed in the bag or pocket. Once used and washed they can also hang unnoticed on the line.
What Makes Us Different
All the Inners of Leafline products are made from a natural Pineapple Leaf fibre making them environmentally friendly, reusable and cost effective.
Our Guarantee
It is extremely important to us that you are thrilled with your purchase. If you're not 100% satisfied with your order, we will do our best to make it right & win you back.